SEND @ HBHS
We are pleased to offer a dedicated team to aid our Special Educational Needs students.
| | | |
| --- | --- | --- |
| | | |
| Ms Williams | Mrs Topp | Mrs Clutterbuck |
| | | |
| Mrs Libali Modia | Mrs Ebanks | Mrs Garland |
About our team
"It is a true privilege to be the Inclusion Lead at Henley Bank High School, I am absolutely passionate about inclusion and ensuring that every child has their needs understood and met across the curriculum and are able to enjoy every aspect of their school day.
My initial degree is in Botany from the University of Durham, elements of which are brought into my teaching of Food Science and Catering. For my Masters in Education, I specialised in dyslexia as well as the impact of having communication and interaction difficulty on a child's education. I have never led such a talented and determined team of support staff, nor worked in a school which holds inclusion so much to it's heart. Please come and see what we do, and talk to our wonderful students."

Ms Williams SENDCo
"I joined Henley Bank High School in September 2020, having worked previously in a range of mainstream and special schools. I oversee the support for children with communication and interaction difficulties and can be frequently found in our PLC common room, which is a safe haven for children who need support to socialise with a wider group of people. Nothing makes me happier than when our young people feel confident enough to 'flee the nest' and no longer rely on our support. I am currently studying for a Masters in Education, focusing on Inclusion."

Mrs Topp Teaching Assistant
My name is Mrs Ebanks and I am the Literacy HLTA at Henley Bank High School. I teach Literacy lessons throughout the school and I support Y7 to Y11 students at HBHS in English & History Lessons. I also enjoy spending time in the PLC and after school Homework Club supporting SEND students to reach their full potential. I have worked in both Primary and Secondary schools and use my knowledge of Phonics and Literacy to support students to make accelerated progress with regards to their reading skills. If you see me at HBHS feel free to ask me what I am reading at the moment and I'm sure we can have a conversation full of interesting discussion about our experiences of books and learning.

Mrs Ebanks Literacy HLTA
Hello everyone. I'm Mrs Clutterbuck and I work in the SEND department focussing on Maths. I have a grown-up son and an excitable puppy at home. I love gardening and long-ish walks and believe in keeping fit, so I do exercises and Tai Chi every morning before work. I gained QTS and a PGCE Secondary Maths in 2020. Before that I worked for several years in Higher Education teaching across the subjects of Maths, Statistics and Computing ranging from Numeracy and basic IT through to degree level subjects. Over time my teaching moved away from Maths and I felt a yearning to get back to the subject I loved, which led me to doing the PGCE.
At school, my day is mainly filled by providing in-class support for year levels 7 to 11, ironing out any misconceptions and helping students to be successful in Maths. I also provide 1-to-1 and small-group sessions for pupils that need additional support. At some of the break and lunch times I help out in the PLC and often get beaten at the various board games available e.g. Rummikub.

Mrs Clutterbuck, Maths Support
Hello, my name is Mrs Libali Modia and I have been at HBHS for over 3 years. I live with my husband and 4 daughters and I am a pastor at the Pentecostal church. My hobbies are running, swimming and keeping healthy.

I have a degree in Business studies and a L3 Diploma in counselling. I developed a passion for working with the students as a TA when I was working alongside my husband's private tutoring centre.

At HBHS I work with SEMH/ACE's students, coaching them either in small groups or on a 1:1 basis and assessing their individual needs alongside our SENCo Manager. I also work alongside Kelly Green, our mindfulness Specialist Teacher, Natasha and Katherine, our school counsellors delivering targeted interventions.

These interventions combined with various resources provide our students with strategies to enable them to understand, manage and acquire the skills they need: to self-regulate and improve the students' attendance and the positive impact on their emotions.
Students also have the ability to label and communicate their emotions and resilience when exposed to emotions.

Mrs Libali Modia, Teaching Assistant
Hello, my name is Mrs Garland and I joined the HBHS family in September 2020. I live with my Husband, Daughter and our dog Rickie. I like travelling and enjoy cooking and baking.

I began my journey as a TA by helping out at my Daughters primary school with guided reading sessions, moving on to obtain my NVQ Level 3 in Teaching Support. I feel passionate about working with our SEN students and find it tremendously rewarding when we are able to find strategies that can aid their learning and support their enjoyment of school life.

I work with/alongside our Speech & Language Therapist Rebecca Burnham helping small groups of students with curriculum based vocabulary and their inference skills. I also work with our EAL students to support them with their transition into UK based education.

I am very proud to be part of Henley Bank High School because the focus on the students and their character development is just as important as their qualifications and I feel honoured to be able to share their journey with them.

Mrs Garland, Teaching Assistant
I joined Henley Bank High School in 2020 as Maths tutor after 12 years' experience of teaching mathematics in various secondary schools in England. I have a BSc degree in Mathematics and Statistics, MSc in Actuarial Science (Distinction) and PGCE in Secondary Mathematics.

I want to inspire the next generation to enjoy maths and break down barriers which have been a hindrance for so many young people not able to maximise their full potential in mathematics. I am also AQA maths examiner with 5 years' experience of marking GCSE maths examinations.

I use a combination of games and other real-life experiences to make mathematics fun and enjoyable. I also enjoy reading and watching football in in my spare time.

Mr Sarfo-Asante, Maths Tutor
"I am a Speech and Language Therapist supporting children and adolescents to build on their speech, language, and communication skills. I qualified in 2018 from Birmingham City University and joined the SEND team at Henley Bank High School in September 2020.

My aim is to empower each and every pupil to reach the best of their ability and take ownership of who they are. Language and communication needs can go unidentified but affect many pupils, even in mainstream settings. These challenges can have an impact on the pupil's engagement, behaviour, friendships, and self esteem. It is rewarding to watch the pupils grow and develop their language and social skills, building independent skills for the future and thriving as a person. I look forward to continuing to work with the pupils and staff at the school."

Miss Burham, Speech and Language Therapist
My name is Natasha Dancy and I'm the school counsellor at Henley Bank supporting students through the challenges that adolescence presents as well as other mental health difficulties.

I've trained as an integrative counsellor and have training and experience working creatively with children and young people. My aim is to provide students with a safe place where they can explore and understand how to manage the difficulties they're experiencing, see themselves in a different way and ultimately empower them for road ahead.

It is well known that counselling can help students deal with a range of issues including:

dramatic drops in performance at school
mood swings, frequent changes in attitude and behaviour
issues around anger
breakdown in family relationships
bereavement, loss and separation
school refusal
bullying or victims of bullying
low self esteem
self-harm

I'm contracted by Gloucestershire Counselling Services who also offer a wide range of therapeutic interventions for adults, couples and families. You can find more information at www.gloscounselling.org.uk

Natasha Dancey, School Counsellor
A Day in the Life of a SEND Student
We can't describe a typical day in the SEND department of HBHS as no two days are ever the same, however, one thing that never changes is the constant hum of activity.
From 8 am every morning our PLC Common Room offers our students a quiet, safe place to begin their day with a healthy assortment of breakfast options and the odd indulgent hot chocolate thrown in for good measure.
Following our breakfast provision, our 'Positive Start' group provides a structured and nurturing start to each day, for those students who struggle in the roll call. Each week the focus mirrors our Legacy Calendar and its values focusing on encouraging our students to become more confident, creative, ambitious and determined.

Throughout the day our students receive in-class subject support and interventions from our specialist team as well as outside agencies. From SEMH counsellors to Speech & Language therapists, the varied support offered to our students has a compassionate, respectful and personalised child-centred approach.
Our PLC Common Room is also available every break and lunchtime for our pupils who find the hustle and bustle of the school's communal areas all too much. It is a popular place to meet friends, read, draw, play games, share lunch and find a listening ear.
Academically, our SEN students have their minds opened from the first bell, Year 10 students benefit from English tuition during Period 0 and a small group of Year 7. Year 8 and Year 9 students enjoy a bespoke additional literacy and numeracy pre-teaching registration group.
Led by a passionate SENCO who has been in the sector for over 20 years, our growing and highly dedicated and talented team specialise in 'social thinking', SEMH (Social Emotional Mental Health), Literacy,Numeracy, and SLCN (Speech, Language and Communication Needs) ensuring that each child at HBHS receives a holistic individual child centred approach/support.
Working alongside some fantastic external support workers our SEND Department is constantly active with educational interventions, mindfulness coaching, SEMH and anxiety counselling and student and parent meetings. Our staff are constantly acquiring new skills or furthering their knowledge in their specialist areas and as our team continues to grow you can be assured that our children will receive the personalised individual support that suits them.
SEND Identification Process
SEND identification process
it is really easy for a teacher to submit a SEND referral form via Google Form on the HBHS home page; anything small can be recorded and it helps to paint a bigger picture of a student. Teachers are kept informed by the SEND team with updates following each referral.
it is a clear process as to what needs to happen e.g. does parent need called, etc
Quality of information about our SEND students
Edukey is has well-presented, useful and relevant information for class teachers - I particularly like the bit about student interests, it can often help to 'crack' a vulnerable student to engage in lesson
Monday briefings are useful so that all staff have access to consistent best practices. The SEND snapshots are really useful to help me develop my understanding of specific areas of need, such as ADHD and ASD (see below)
NGRT/SAS scores are helpful pieces of the jigsaw for staff to know how to effectively plan for ability/need
The MITA process
The MITA process
this has improved working partnership between class teacher and teaching assistant
Staff now direct the teaching assistant more in lessons as a result and we share our understanding of the strategies that support our individual students
discussion between colleagues is helpful when a teaching assistant supports student(s) in other subject area where a particular strategy is use
MITA process has really encouraged me to think about how we use teaching assistants in lesson to maximise outcomes for students
Literacy Provision
Literacy Profile
The Literacy curriculum at HBHS focuses on improving reading skills for all students who require additional support with regards to their reading abilities and skills. Students improve their skills by revisiting phonics in a Greenshaw Learning Trust designed programme suitable for older learners; practice their comprehension skills through History texts relevant to the KS3 History Curriculum ensuring students still acquire History knowledge whilst focussing on their learning needs and goals; and have small group DEAR Reading at the end of each day-providing a calm relaxing end to their day while improving students reading fluency and vocabulary. Altogether, these carefully planned provisions support students to develop their Literacy skills and become budding readers.

Maths Provision
Maths Provision

Interventions in Maths can vary widely but all have the same goal: building students' knowledge and skills so that their access to the curriculum is improved and becomes closer to that of their age-related peers.
The support offered can be to individual students or to small groups with bespoke sessions ranging from improving basic numeracy skills, through to filling knowledge or skill gaps and improving knowledge or proficiency in specific topics. We make use of manipulatives to aid progress with this and move through to pictorial, then abstract methods, whilst providing opportunities for practice and over-learning. We match the approach, methods and style of explanations used in the classroom to achieve consistent interventions, allowing consolidation of learning and the building of student confidence.
Last, but not least, we provide in-class support, giving timely and appropriate help to those who need it most and, in general, to the rest of the class. In-class support is also seen as critical to the success of interventions as exposure to classroom teaching allows us to achieve the desired consistency needed for that success.
What our staff say about SEND
Our SEND provision:

we are a caring school; with clear systems which support all students to succeed
the ALP is helpful in integrating vulnerable learners back into mainstream, where they may otherwise completely disengage from education
literacy interventions for DEAR help to develop comprehension skills which are required across the whole curriculum

Miss Charters, Teacher of English and Literacy coordinator
"The SEN provision at Henley Bank - The provision at this school is of a very high standard. Every student is understood by their teachers in depth and teachers go above and beyond to make sure that every need is catered for. Pupils at Henley Bank are confident when they need extra help and it is always dealt with efficiently and empathetically. The SEN team knows the most vulnerable students very well and students clearly feel safe in the PLC area."

Miss Warner, Teacher of English
'As a new teacher at the school, I was stunned by the level of support new arrivals to Henley Bank receive in assisting their SEND students. Not only were the SEND staff incredibly helpful and knowledgeable, but the systems in place made the whole process very intuitive and easy to utilise. The level of detail was also very impressive, providing comprehensive information relevant to helping students on both an academic level, and in their personal and emotional development and wellbeing. This is clearly a school which cares deeply about SEND issues and has the drive and competence to deliver on those values.'


Mr Haliday, Teacher of English
'One of the most thorough, all encompassing and dedicated SEND team that I have ever known. All members of the team want to ensure that all students succeed and are successful and because of this they have an excellent support provision. Seeing students flourish over this academic year despite all of the barriers and challenges has been excellent.'

Mr Derry, Headteacher
Parental Feedback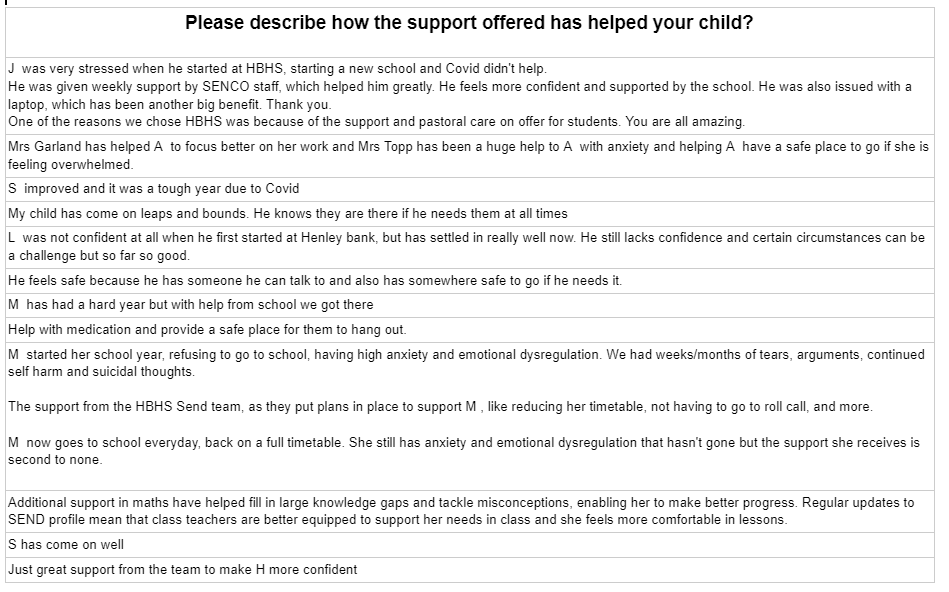 For more information on our SEND provision please click here